Blue Stage, Red Stage, Orange Stage, Green Stage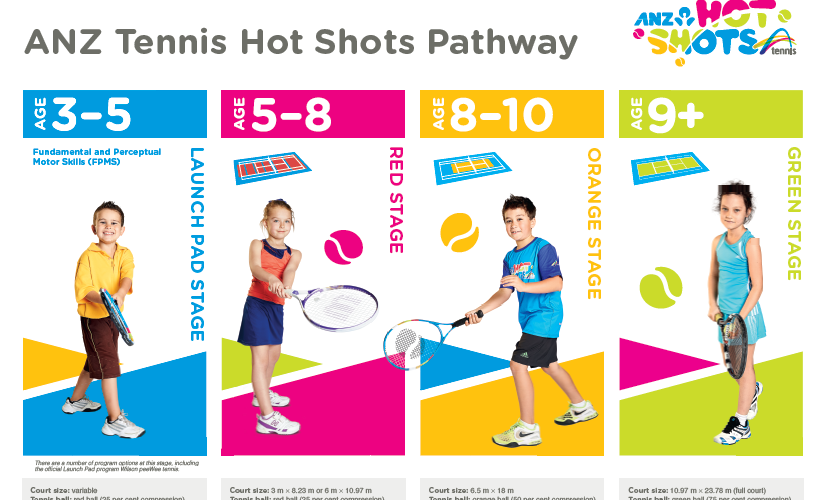 For more information please CALL Advantage Tennis
on 02 8880 8880 / SMS 0413 632 632 or email us
Ages 4-5 (Blue Stage)
Children within this group are using red dot balls (which are 25% compressed) and a modified court. It is designed to introduce younger children to the game of tennis in a fun setting.
This group will assist children to achieve:-
Hand-eye coordination
A basic understanding of tennis strokes
Basic balls skills
Cost: $125 per term (30-minute group lesson)
Ages 5-8 (Red Stage)
Children within this group are using red dot balls (which are 25% compressed) and a modified court.
This group will assist children to achieve:-
Improved technique with various tennis stroke
Basic rallying skills
Basic serving skills
Cost: $125 per term (30-minute group lesson)
Ages 8-10 (Orange Stage)
Children within this group are using orange dot balls (which are 50% compressed) and are being introduced to 3/4 court match playing.
This group will assist children to achieve:-
Forehand and backhand strokes using top spin
Basic rallies with coaches and other students
Successful placement of ground strokes
A competent level of movement
Cost: $200 per term (60-minute group lesson)
Ages 9+ (Green Stage)
Children within this group are using green dot balls (which are 75% compressed) and are progressing toward full-court matches.
This group will assist children to achieve:-
Various spins for forehand and backhand strokes
Extended rallies with other students
An understanding of strengths and weaknesses in their game
Competency when serving from the baseline
An understanding of tactical game-play
Cost: $200 per term (60 minute group lesson)
JOIN US TODAY! Adult membership, junior membership and family memberships are available. Wonderful benefits including half price court hire.
Click Me!
Evening competitions include Mixed, Men's Doubles, Ladies Doubles and Anytime Singles. Junior competitions for all standards
Click Me!
Our 7 synthetic grass and 2 hard courts are available for hire when not in use for coaching or club run events.
Click Me!